Description
Contact us for Pricing
Please contact us for operations outside the United States or for access to other uAvionix products.
Overview
The SkyLink Command and Non-Payload Control (CNPC) Data Link is a Command and Control (C2) frequency modulated radio intended for point-to-point or networked UAS operations for Beyond Visual Line of Sight Operations.
Unique to UAS C2 radios, SkyLink includes both antenna diversity and radio diversity. Each SkyLink unit includes dual radios which enable "make before break (MBB)" connectivity when transitioning from one ground station to the next. MBB ensures a solid handoff between one operator using one ground station to another operator using a second "target" ground station by ensuring the target ground station has a solid connection before releasing control from the initial operator. For many customers, this helps to close the safety case during a high-risk portion of an operation.

SkyLink is designed and developed for certification using Design Assurance Level C (DAL-C) as designated in RTCA DO-178C and DO-254C. SkyLink is currently operating under experimental licenses on L-Band as a Multiple Input, Single Output (MISO) dual radio solution.
Features
RTCA DO-362 with Class 1LYAM and 1LYGM configurations
Configurable as the Airborne (ARS) or Ground (GRS) Radio
Dual Radio System
User Plane Radio

Transparent bi-directional data link between GRS and ARS

Control Plane Radio

Handles signaling between ARS and GRS entities in support of link management functions
Handover function when passing piloting control from the Serving GRS to the Target GRS
Diversity radio after Switchover performing spatial, pattern diversity and polarization
SMA, MMCX antenna connectors
Status, integrity and health monitoring
UTC synchronized TDMA, Geo synchronized FDMA and pseudo-random CDMA for Multiple Access
Environmental RTCA DO-160G
Software RTCA DO-178C Level C
Complex Hardware RTCA DO-254 Level C
Regulatory
FCC 47 CFR Part 87 ID 2AFFTC2XCP0
Radio Diversity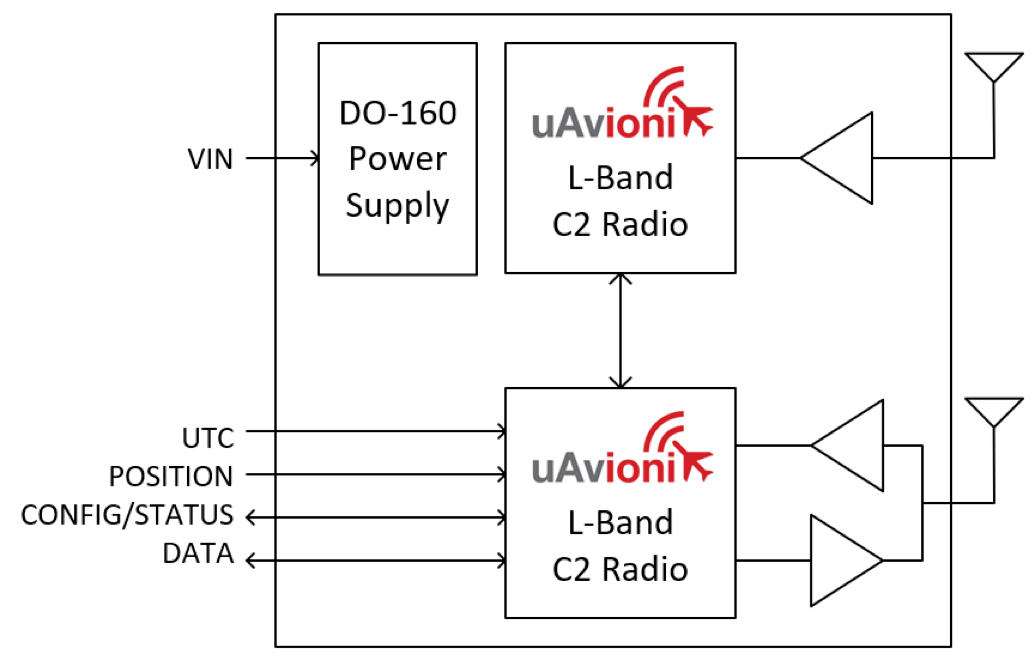 Mechanical Specification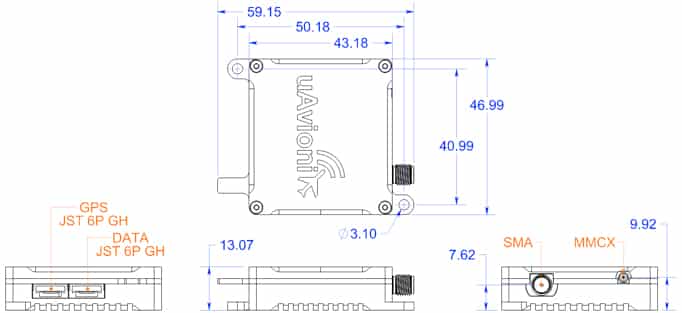 Technical Specifications
| Specification | Value |
| --- | --- |
| Input Power | 11-34V (3S-8S LiPo) 16W peak |
| Size | 47x54x13mm |
| Weight | 70 grams |
| Operating Temperature | -45° to +70°C |
Radio
Band
960-1164MHz
Transmit Power
10W Nominal
Spreading
Code and Frequency
Bandwidth
200kHz
Receiver Sensitivity
User Receiver
-118dBm
Control Receiver
-121dBm
Doppler Capture Range
±16kHz
Interfaces
User Plane
Data Rate
57600bps
Protocol
Transparent Binary
Control Plane
Data Rate
115200bps
Protocol
GDL90+
Timing/Position
UTC
1PPS Time Pulse
Position
NMEA 0183 115200bps
Environmental
DO-160G
Temperature Cat B2
Electrical Specification
User Interface
Pin
Type
Physical
Port
1
5V
5V Out
2
RXD
IN
User Data
3
TXD
OUT
User Data
4
SDA
I/O
skyTrac
5
SCL
I/O
skyTrac
6
GND
Timing/Position, Control Interface
Pin
Type
Physical
Port
1
5V
5V OUT
2
RXD
IN
Position
3
UTC
IN
1PPS
4
RXD
IN
Control
5
TXD
OUT
Control
6
GND
Documentation