Description
Contact us for Pricing
Please contact us for operations outside the United States or for access to other uAvionix products.
Overview
Ping200X is a complete system designed to meet the Transponder and Automatic Dependent Surveillance – Broadcast (ADS-B) requirements for operating Unmanned Aviation Systems (UAS) in controlled airspace.
The system is fully configurable as any combination of Mode A, Mode C, Mode S transponder and Extended Squitter ADS-B transmitter and includes a barometric sensor with accuracy beyond 60,000ft.
FAA TSO Certification Pending (TSOA June 2019)
FAA TSO-C88b internal altitude sensor
FAA TSO-C112e Level 2els, Class 1 Mode S transponder
FAA TSO-C166b Class B1S Extended Squitter transmitter
Fully configurable as Mode A/C only, Mode S only, ES only, Mode AC + ES, Mode S + ES and Mode AC + S + ES
Waterproofness to DO-160G category S
Meets the U.S. ADS-B Out equipment performance requirements of 14 CFR 91.227
Static pressure sensor accurate to 60,000ft.
GDL90 ownship and altitude packets
SMA 1030/1090MHz Antenna Connector
Conformity
RTCA DO-181E Level 2els, Class 1
Regulatory
FAA transmit license – manned aircraft and unmanned aircraft operating above 500ft AGL
FCC 47 CFR Part 87 ID 2AFFTP200S
Mechanical Specification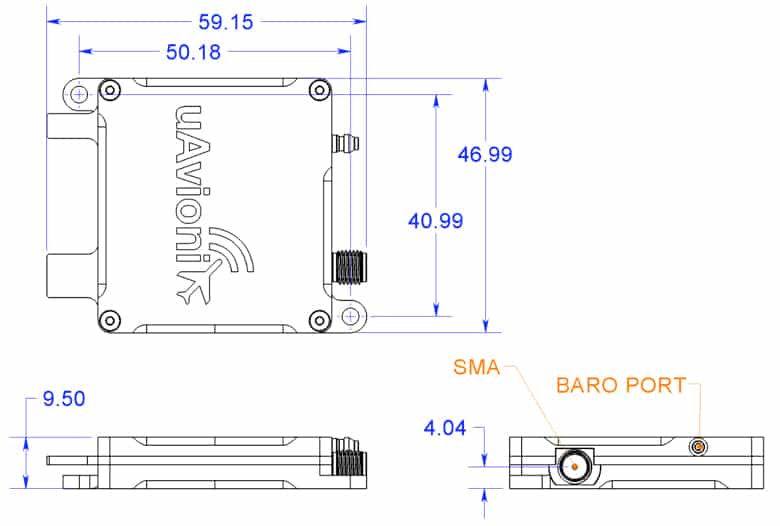 Documentation
Technical Specifications
Specification
Value
Input Power
11-34V (3S-8S LiPo)

1.5W Continuous On/Alt.

4W Peak (8ms maximum)

Size
47x54x9mm
Weight
50 grams
SIL/SDA
3/2
Operating Temp
-45 to 70°C
Transponder
MTL 1030MHz
-74dBm ±3dBm
1090 Transmit Power
250W Nominal
Altimeter
Range
-1000 to 60,000ft
Interfaces
Control
Baudrate
1200-2Mbps
Protocol
GDL90+
Position
Baudrate
Protocol
MAVLINK
Options
1030/1090MHz Transponder Antenna
Electrical
| | | | |
| --- | --- | --- | --- |
| Pin | Type | Physical | Protocol |
| Black | 22AWG | Aircraft Ground | |
| Red | 22AWG | Aircraft Power | |
| Orange | 24AWG | AP RXD | GDL90+ |
| Gray | 24AWG | AP TXD | GDL90+ |
| White | 24AWG | RXD | MAVLINK |
Environmental
| | | |
| --- | --- | --- |
| Condition | DO-160G | Category |
| Temperature | 4.0 | B2 |
| Temperature Variation | 5.0 | B |
| Humidity | 6.0 | A |
| Operational Shock | 7.0 | B |
| Vibration | 8.0 | Type 5 level M |
| Waterproofness | 10.0 | S |
| Magnetic Field | 15.0 | Z |
| Power Input | 16.0 | BX |
| Voltage Spike | 17.0 | B |
| AF Conducted Susceptibility | 18.0 | B |
| Induced Signal Susceptibility | 19.0 | AC |
| RF Susceptibility | 20.0 | TT |
| RF Emissions | 21.0 | B |
| Lightning Induced Transient Susceptibility | 22.0 | A2G2L2 |
| ESD | 25.0 | A |